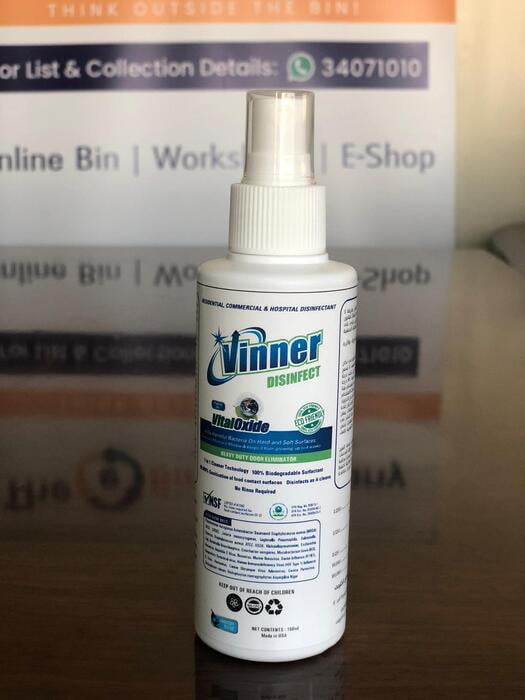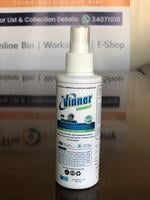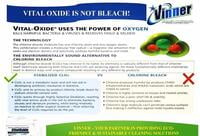 150 ML VITAL OXIDE TECHNOLOGY - USA
Non-returnable
Vital Oxide
is a germicidal
disinfectant
cleaner and deodorant designed for general cleaning and disinfecting of hard, nonporous inanimate surfaces when use-directions for disinfection are followed.
NSF & EPA registered and also included under List N: Disinfectants for Use Against SARS-CoV-2
Kills harmful bacteria

on hard & soft surfaces

Removes Mold & Mildew

and blocks it from growing up to 4 weeks
Heavy duty odor eliminator
7 in 1 Cleaner technology
100% Biodegradable Surface disinfectant.
99.999% Sanitation of

food contact surfaces

Disinfects as it cleans

No Rinse required

Odorless, with no offensive odor or taste.

Non corrosive

safe on treated articles like carpeting, fabrics, natural stones, plastics etc.

Non irritating to skin

PH balanced at 8.5

Hypo allergenic - Allergen reducing formula
Vital Oxide is still effective with a diluted ratio of up to 9:1 – however, for the best clean, we recommend using it the first time without dilution.
Chlorine Dioxide, Alkyl (60% C14, 30% C16, 5% C12, 5% C18),
Di methyl
benzyl ammonium chloride, Alkyl (68% C12, 32% C14)
dimethyl
, ethyl benzyl ammonium chloride
&