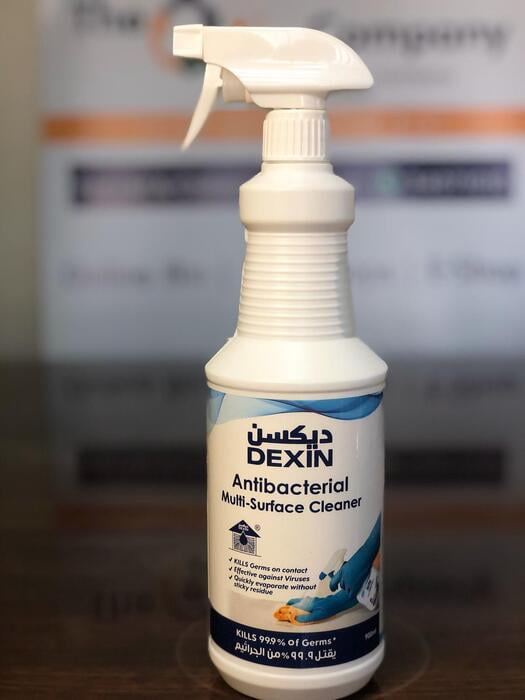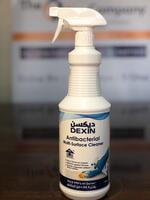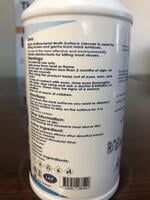 DEXIN - Antibacterial Spray 900ml ديكسين- بخاخ مضاد للبكتيريا 900 مل
Non-returnable
Dexin Antibacterial Multi - Surface cleaner is used for killing viruses and germs from hard surfaces.

Made in Bahrain




ديكسين- مضاد للجراثيم للسطوح يستخدم لقتل الفيروسات والجراثيم من الأسطح الصلبة.




صنع في البحرين
Warning :
For external use only.
Keep away from heat of flame
When using this product keep out of eyes, ears and mouth.
In case of contact with eyes, rinse eyes thoroughly with water, stop using and ask a doctor if irritation or rash occurs. These may be signs of a serious condition.
Keep of reach of children.
Spray down the hard surfaces you want to disinfect
Pour into the spray bottle
Allow the solution to stay on the surface for 10 minutes.
Wipe out of the surface
Store between 15- 30 C
Avoid freezing and excessive heat above 40 C
Diisobutyl phenoxy ethoxy ethyl dimethyl benzyl ammounium chloride, Ethylene Glycol Monobutyl Ether, Butoxyethanolm,
Ethyl Alcohol
Disinfectant
Purified Water